Oxymetholone-The Man Made Steroid
Alias: Anadrol

CAS No:434-07-1
Einecs No: 207-098-6
MF: C21H32O3
MW: 332.482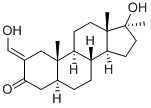 Purity: 99%
Appearance: white powder.
Applications:
Stanozolol intermediate. Itself as an anabolic hormone drugs, can promote protein synthesis and inhibiting protein dysplasia, and can lower blood cholesterol, reduce calcium phosphorus excretion and reduce bone marrow suppression, promoting development, promote tissue freshmen and granulation. Caused by long-term use of adrenal cortical hormone have prevention and protection against the adrenal cortex hypofunction.
Second only to Dianabol (methandrostenolone) as a bodybuilding anabolic steroid. Additionally, it has had considerable medical importance particularly for treatment of anemia, and more recently to help maintain lean body mass in HIV-compromised patients.